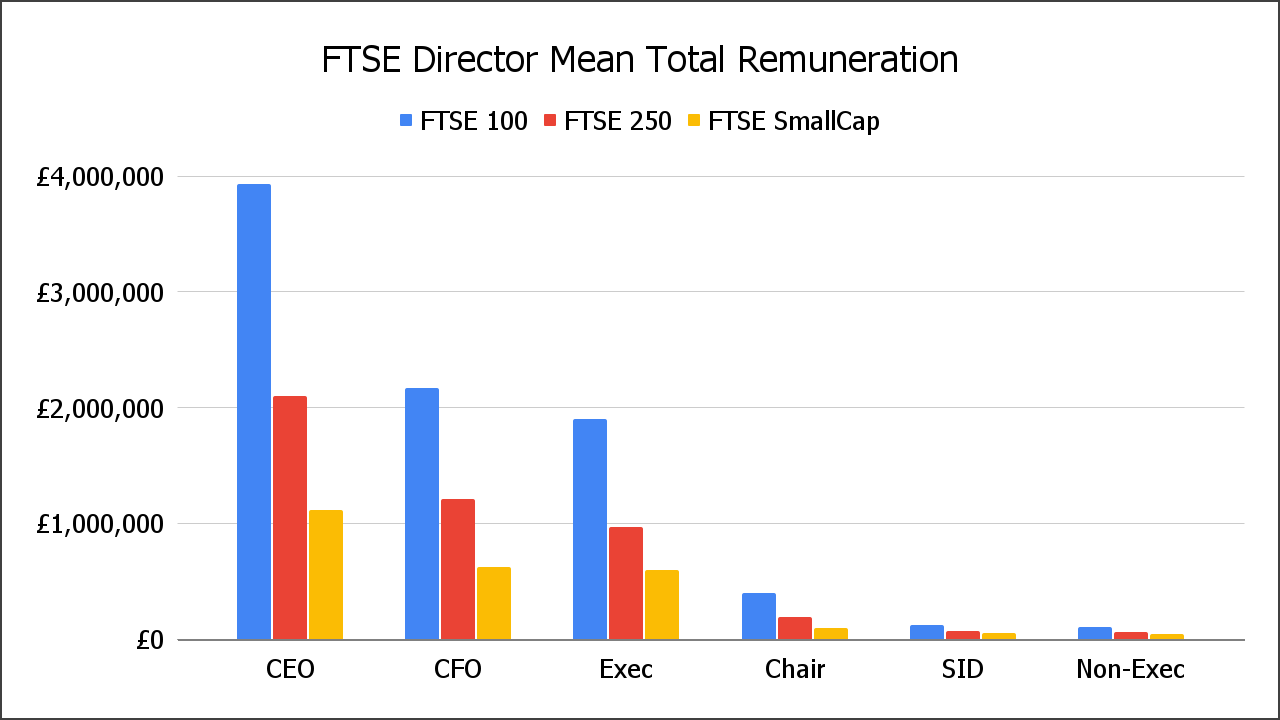 FTSE Directors – the Shape of Pay
The High Pay Centre recently published their annual Analysis of UK CEO Pay, which found that the median pay of FTSE 100 CEOs was £3.91M in 2022.
We've created a broader picture of FTSE Director pay by analysing the mean total pay for each board role, and how this varies across the main FTSE indexes, based on data in the Numerable board intelligence platform. This shows clear patterns.
Key Results
The data in Numerable showed that, on average:
the pay of an FTSE 100 director is 1.8 times greater than that of a FTSE 250 director in the same role
the pay of an FTSE 250 director is 1.7 times greater than that of FTSE SmallCap director in the same role
executive directors (who are usually full-time) earn 19 times more than non-executive directors
a CEO earns 83% more than a CFO
a CFO earns 15% more than other Execs
a Chair earns 161% more than a SID

(Senior Independent Director)
a SID earns 7% more than a Non-Exec
the pay ratios between role categories are fairly consistent across the 3 indexes

, except for the Chair role: a FTSE 100 Chair earns 3.4 times more than a FTSE 100 SID; that ratio is 2.7 in the FTSE 250 and 2.0 in the FTSE SmallCap
Details of Analysis
This analysis:
covers all 575 companies in the FTSE All-Share Index on 21/8/23 (the FTSE All-Share is made up of the companies in the FTSE 100, 250 and SmallCap Indexes)

includes all main board directors on that date, whose reported pay has been collected in Numerable (NB the pay of recently appointed directors has not yet been reported).

uses the 'Single Figure Total Remuneration' disclosed in each company's Annual Report
Each main board director's role is classified into one of six role categories.
Executive Directors (usually full-time roles)
CEO

: Chief Executive Officer

CFO

: Chief Financial Officer

Exec

: any other executive board director
Non-Executive Directors (usually part-time)
Chair

: the chair of the board (usually non-executive role, but about 4% are executive)

SID

: the Senior Independent Director (always a non-executive role)

Non-Exec

: other non-executive directors who are not Chair or SID
How is FTSE Director Pay Structured and Set?
Typically in FTSE companies:
Single Figure Total Remuneration for an executive director consists of fixed and variable (i.e. performance related) elements. The fixed elements are basic salary, taxable benefits and pension allowance. The variable ones are a bonus and an LTIP (Long Term Incentive Plan – often involving company shares), which are determined by company performance.

Non-executive directors receive only fixed remuneration – a flat fee and taxable benefits. The fee is set according to the role (Chair/SID/other Non-Exec), chair/member of board committees, and other defined duties.

Remuneration structure and levels are set by the Remuneration Committee, whose members are board directors. They are often advised by external remuneration consultants.

The report on the Directors'  Remuneration is voted on at each company's Annual General Meeting. It is rare for it not to be approved by shareholders, but this does occasionally happen, for example at Unilever's 2023 AGM.
____________________________________________________
Numerable is an innovative board intelligence platform with a database of LSE listed public companies, directors, appointments, and associated governance and diversity metrics. It continuously collects and harmonises published information from company registries, annual reports, websites and news releases. It has a range of powerful, interactive tools to browse, search, filter, sort and analyse.