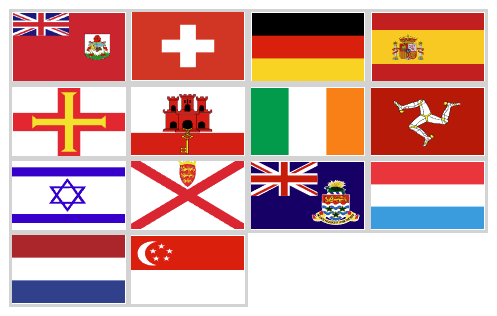 12% of FTSE All-Share companies incorporated in tax havens?
While working on Numerable, I've been building my knowledge of the public companies whose shares are traded on the London Stock Exchange.
I'd (perhaps naively) thought that these companies were 'British'.
It was a surprise to find that many companies in the FTSE All-Share index are actually incorporated outside the UK.
The FTSE All-Share index is made up of companies in the FTSE 100, FTSE 250 and FTSE SmallCap indexes. They are the 597 eligible companies with the largest market capitalisation listed on the Main Market of the London Stock Exchange.
87, or 14.6%, of these are incorporated outside the UK. This means that their full company and director details are not held by the UK's Companies House, where they would be easily and freely available.
That information is held by the company registries of the countries where they are incorporated. Almost all of these overseas registries are less accessible and transparent than Companies House, and charge for access to even basic company documents.
I used Numerable to investigate further.
14 of the 87 foreign companies are incorporated in countries, mainly in Europe, where they have their historical roots or main bases of operation. Fair enough.
But the remaining 73 (12.2%) companies are incorporated in small countries or territories often referred to as "tax havens": Guernsey (39 companies), Jersey (22), Bermuda (5), Isle of Man (3), Luxembourg (2), Gibraltar (1), Cayman Islands (1).
These 73 companies matter. They have a total of 340,000 employees, market capitalisation of £170 billion, and income of £220 billion. More than 50 of them are investment companies and trusts.
A substantial majority of their directors are British – perhaps as high as 75% (it's hard to be exact as the director details for these foreign companies are not available on Companies House).
So why are they incorporated outside the UK? It seems likely that a major factor is to be incorporated in jurisdictions with a more favourable tax and legislative environment.
---
Numerable is an innovative board intelligence platform with a database of LSE listed public companies, directors and appointments. It continuously collects and harmonises published information from company registries, annual reports, websites and news releases. It has a range of powerful, interactive tools to browse, search, filter, sort and analyse.