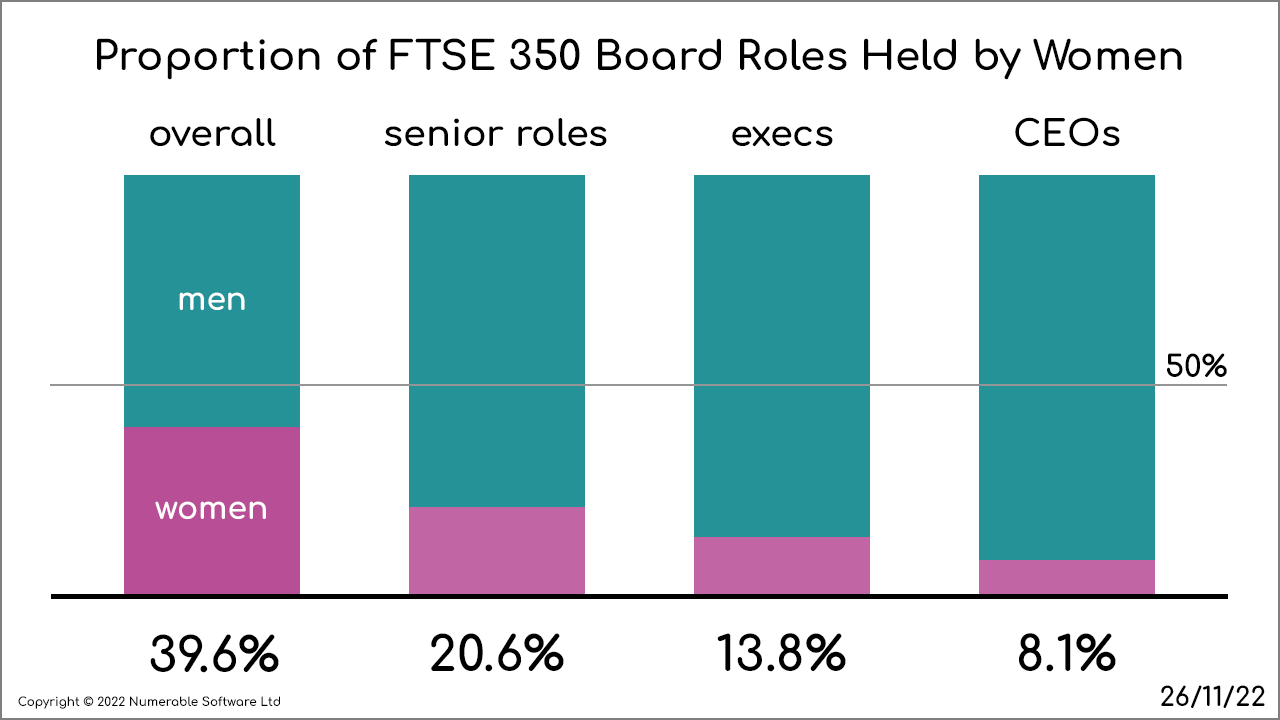 Board Gender Balance – Different Stats, Different Stories
The gender balance of the boards of the UK's public companies has rightly received a lot of attention. Over the last decade, starting from a low base, the number of women on these boards has increased significantly.
So where does this gender balance sit now? It depends how you define and measure it. We considered 4 ways this is done. All are "true", but you get a very different impression from each.
We explored this using the live data on all FTSE 350 companies in our Numerable board intelligence platform, on 26th November 2022.
1. Proportion of Female Board Members
The most widely recognised target for gender balance on UK public company boards is the overall proportion of women directors. This has been championed by government-backed reports such as the annual Hampton-Alexander Review, which set a target of 33%.
In 2022 the Hampton-Alexander Review has been renamed as the FTSE Women Leaders Review. It has increased the target proportion to 40%, and this is now included in the Financial Conduct Authority's (FCA's) Listing Rules. Companies will have to comply with this FCA target, or explain why they have not done so, in their Annual Reports for periods starting from 1 April 2022.
The FCA Listing Rules, and the UK Corporate Governance Code that they refer to, matter because they contain formalised governance rules and guidelines, against which investors can assess companies and their boards. However the current UK Corporate Governance Code, while encouraging board diversity, does not set any specific targets for it.
Today the overall proportion of FTSE 350 directorships held by women is 39.6%. So has the FCA's 40% target nearly been met?
No – because the FCA target is for each individual company, not the aggregate for a group of them such as the FTSE 350. Just 187 out of the 350 companies have already met the 40% target; only slightly over half.
2. Women in Senior Board Positions
The FTSE Women Leaders Review also has a new recommendation, that at least one of the senior board positions – Chief Executive Officer (CEO), Chief Financial Officer (CFO), Chair, or Senior Independent Director (SID) – should be a woman. This has again been added to the FCA Listing Rules.
As this target has now been formalised we expect there to be substantial attention, and progress, on it over the coming years.
Today, 199 FTSE 350 companies, or 57%, comply with this rule. However only 20.6% of senior board positions are held by women.
3. Women in Executive Board Positions
The proportion of women drops further when only executive board positions are considered. These are the most senior people who actually run the company day to day – usually the CEO and CFO, and sometimes other executive directors such as the COO (Chief Operating Officer) and heads of divisions or subsidiaries.
Just 13.8% of executive board roles in FTSE 350 companies are held by women. This figure is dramatically less than the overall proportion of women directors as the overwhelming majority (93%) of directorships held by women are non-executive roles.
The shortage of women in public company executive board roles is receiving increasing recognition, for example in the 2022 Female FTSE Board Report.
4. Women CEOs
The greatest imbalance is seen when looking at CEOs – usually the most powerful individual in a company, as well as the best paid.
There are 259 CEOs on the boards of FTSE 350 companies. The companies that don't have CEOs are mainly investment trusts that have fully non-executive boards. Only 21 (8.1%) of the 259 CEOs are women.
Initiatives such as 25×25 are helping focus attention on this imbalance, and what can be done to correct it.
Conclusion
Driven by the Hampton-Alexander target, the overall proportion of women on FTSE boards has increased and now stands at close to 40%. This widely recognised measure is easy to understand and has been valuable in increasing female board participation. But is somewhat crude and masks the large remaining power imbalance, as so many female board members are in non-executive roles.
The proportion of women on boards is much lower if only the most powerful, influential (and best paid) roles are considered.
Women hold only a small proportion of executive board roles, and very few are CEOs. This important imbalance is increasingly being recognised.
Public company boards will only have a broad gender balance when all 4 of the metrics we discuss above are close to 50%. There is a long way to go before this can be achieved, particularly for board executive positions.
____________________________________________________
Numerable is an innovative board intelligence platform with a live database of LSE listed public companies, directors and appointments. It continuously collects and harmonises published information from company registries, annual reports, websites and news releases. It has a range of powerful, interactive tools to browse, search, filter, sort and analyse.