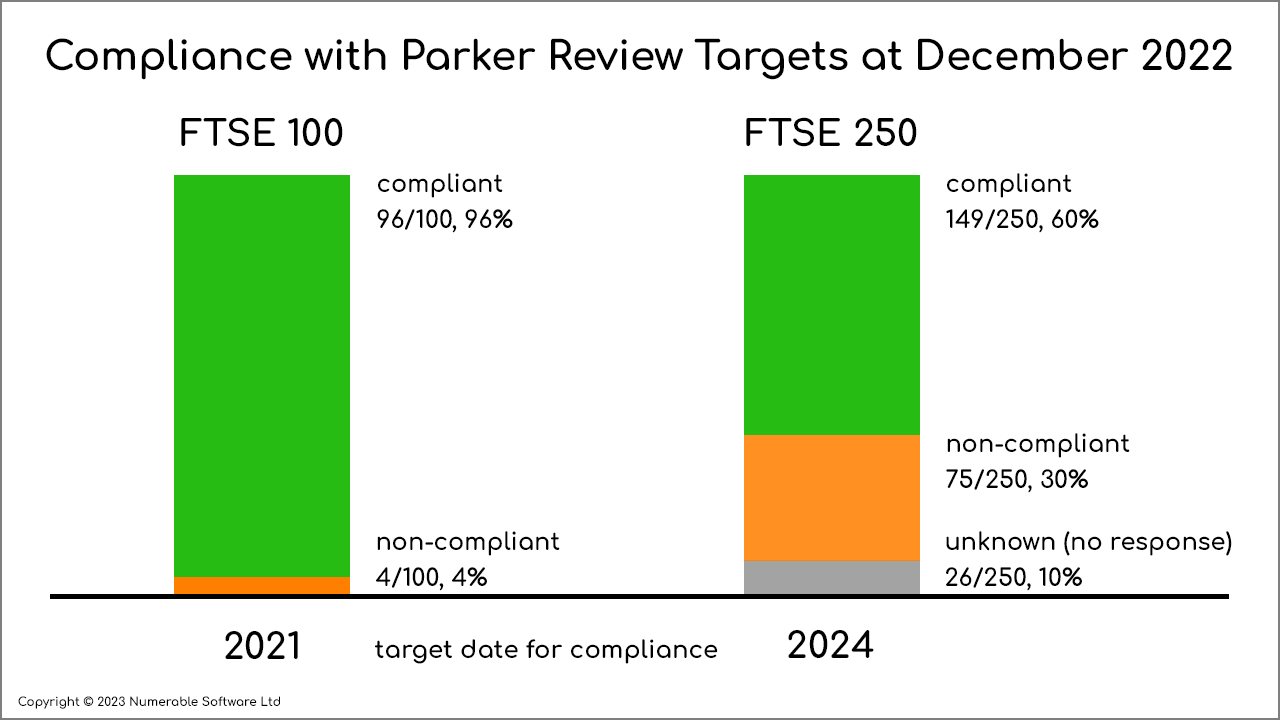 Ethnic Diversity of FTSE 350 Boards – What's Been Reported So Far?
The Parker Review targets for ethnic diversity on UK boards are already influencing director recruiting for FTSE companies and are becoming an important governance issue for both boards and investors.
It is hard to collect data on this topic as the ethnic status of each director is self-declared, is clearly sensitive, and is not normally made public.
There are, though, 2 main sources of published information: the Parker Review reports and each company's own Annual Report.
We've collected data from both of these sources and it is now available in our Numerable board intelligence platform.
1. Parker Review Reports
The Parker Review on ethnic diversity in UK business recommends targets:
"Each FTSE 100 Board should have at least one director of colour by 2021; and each FTSE 250 Board should have at least one director of colour by 2024″.
The March 2023 update to the Parker Review includes the results of a voluntary census of FTSE 350 companies. It asked each company if, in December 2022, it complied with the target.
The results, summarised in the bar chart above, show that 219 (63%) companies have said they comply, but the remaining 131 (37%) either do not comply or did not respond to the census.
The identity of the FTSE 250 non-compliant and unknown companies is not disclosed, perhaps because the target date for it to be met is 2024.
2. Annual Reports
The current FCA Listing Rules oblige FTSE companies to comply or explain if "at least one individual on its board of directors is from a minority ethnic background". This obligation applies for Annual Reports for periods starting from 1 April 2022 – in other words the reports that will be published from about June 2023 onwards.
However most FTSE 350 companies have already voluntarily reported their board ethnic diversity in some form in their last Annual report.
We've analysed the last Annual Report of every current FTSE 350 company. We looked at if, and how, each company disclosed the ethnic diversity of their board. We found that, by 29th March 2023, 282 (81%) companies had done so to some extent.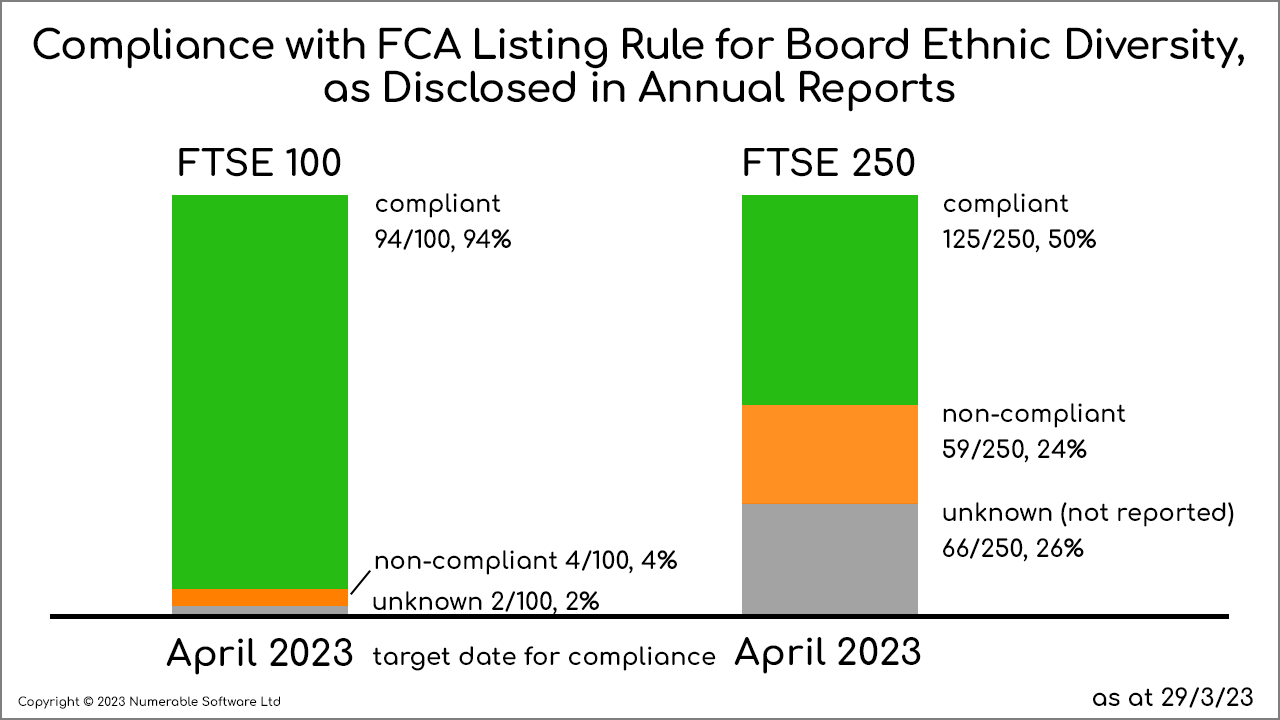 Not surprisingly, this is fairly similar to the Parker Review census results.
Some of the differences are because the dates of disclosure are different. While the Parker Review information is for December 2022, the Annual Report disclosures are for the end of the period reviewed by each report. They are therefore distributed throughout the year.
The number of FTSE companies whose compliance with the listing rule is unknown will decrease as more companies publish their Annual Reports. By mid 2024 it should drop to zero, as all companies will by then be obliged to disclose their board ethnic diversity.
The form of the voluntary disclosure of board ethnic diversity in Annual Reports varies widely. Some companies just state if they comply with the target or not. Most indicate the number of ethnic minority directors and some split that number into several ethnic groups. But only a few (about 30 out of 350) identify which directors are from an ethnic minority background. The consistency of reporting can be expected to increase as compulsory reporting starts, since the Listing Rules define a required tabular format.
Unlike in the Parker Review update, it is possible to identify from Annual Reports which FTSE 250 companies are non-compliant and which have not yet disclosed if they comply. We show this information in Numerable, along with the number of ethnic minority directors in each company where it has been reported, and the wording used in the disclosure.
It's clear from their Annual Reports that some companies – particularly those with smaller boards such as investment trusts – are less than enthusiastic about the increasing range of targets for board composition and diversity. They emphasise that they recruit directors purely on merit and several include statements such as:
"The Board does not therefore consider it appropriate to set measurable objectives in relation to its diversity"
The author of one FTSE 250 company's Annual Report perhaps let their views affect their typing, as the report includes the phrase:
"the Company is complaint with the recommendations of the Parker Review"
It is clear that the ethnic diversity target will be an increasingly significant topic for both companies and investors. It will be particularly challenging for the 75+ FTSE 250 companies that need to recruit an ethnic minority director by 2024, or explain (to the satisfaction of investors) why they have not done so.
We hope that Numerable's accessible presentation of data on board ethnicity will be of value to people in the fields of executive search, governance and investment, by helping them better understand the fragmented information that has been published.
____________________________________________________
Numerable is an innovative board intelligence platform with a database of LSE listed public companies, directors, appointments, and associated governance and diversity metrics. It continuously collects and harmonises published information from company registries, annual reports, websites and news releases. It has a range of powerful, interactive tools to browse, search, filter, sort and analyse.