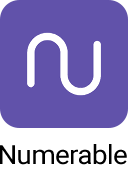 Native apps, that you usually get from Apple App Store or Google Play, install on your mobile device and automatically add an icon to your home screen
Numerable is a web app, which is downloaded from our server each time you run it. This has advantages, for example the software is automatically updated each time we improve it. However, web apps don't add an icon to your home screen. But it is quick and easy to do this.
On an Apple iPad or iPhone:
1. Launch the Safari browser and navigate to app.numerable.io
2. Tap the Share button on the browser's toolbar — that's the rectangle with an arrow pointing upward. It's on the bar at the top of the screen on an iPad, and on the bar at the bottom of the screen on an iPhone or iPod Touch.
3. In the scroll menu (the lower one with the grey icons) find the 'Add to Home Screen' icon and tap on it. You may need to scroll sideways to find that icon.
4. Tap the word 'Add' in the dialog that comes up.
That's it! Just tap the icon to run Numerable on your iPad or iPhone.
On a phone or tablet running Android:
1. Launch Chrome for Android and open app.numerable.io.
2. Tap the menu button and tap Add to homescreen.
3. You'll be able to enter a name for the shortcut and then Chrome will add it to your home screen.
The icon will appear on your home screen like any other app shortcut or widget, so you can drag it around and put it wherever you like.
Chrome for Android loads the website as a "web app" when you tap the icon, so it will get its own entry in the app switcher and won't have any browser interface getting in the way.